GELATIN-AGAROSE
(NOW AVAILABLE, GELATIN-SEPHAROSE
FAST FLOW. PLEASE INQUIRE)
CHARACTERISTICS OF THE GEL
Matrix: SepharoseTM CL-4B.
Spacer arm: 17 atoms.
Binding capacity: > 1 mg of human fibronectin per ml of wet matrix.
Fibronectin highly purified in a single step.
Stability of the matrix: 20°C for days or a week.
Shelf life of the matrix: 1 year after delivery when stored at 4°C.
Storage: 4°C in PBS 50mM pH 7.4; NaN3 0.1% (w/v).
ORDERING INFORMATION
Product code
Product name
Package
*Price in EUR
GEL39-4S
Gelatin-Agarose
25 ml
150.00
100 ml
500.00
500 ml
1500.00
* All prices are FOB Liège.
Bulk quantities are available.
INSTRUCTION FOR USE (Fibronectin purification)
Gel volume: 5 ml Gelatin-Agarose.
Sample: 100 ml Citrated plasma from all animal species.
Binding and washing buffer: K2HPO4 50mM, NaCl 0.9% (w/v) pH 7.4.
Elution buffer: Sodium acetate 50mM, NaBr 1M pH 5.0.
The gel can be regenerated.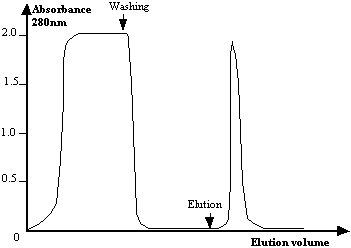 Gelatinase purification: see Chen J.M. et al; J. Biol. Chem. 266, 5113-5121, 1991.